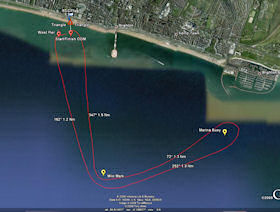 Click to embiggen
Click Here to Download (Huge)
Click Here to view in google earth
Blue Water Challenge[1]
13rd September. 11:00 am. The Blue Water Challenge, now in its fourth year. Its a long distance race open to cats and monohulls. From the club to the marina and back via the mile mark. There is a cup, which will be awarded after the race. Former Winners include Roger Barnacle and Simon and Penny[2].
The course is approximatly 5 and 3/4 nautical miles (6 1/2 Miles).

All boats welcome to enter, (you might want to check your riging, fittings, etc first in some cases) All boats should have additional saftey gear (Mobile Phone, Flares, Compass etc).
Tom's Top Tips
Last year some of us checked the course out with a GPS[3] and got the buoy's nailed down.
After the West Pier buoy, imagine the Palace Pier is three times is actual length and head in that direction. The Mile mark will appear as a black stick on the horizon.
The Marina Bouy is harder to pick out against the land, aim just the right of the eastern end of the Marina.
Don't assume the Boat in front knows where its going[3].

Google Earth Users can use the "blueWater Challenge.kmz" to view the course.

WARNING: All non sad geeky types need not read past this point!
Technical Data
Course lenght 5.7 Nm
Waypoints:
Mile marker:
50°79.410'N
00°14.002'W
Marina Bouy:
50°80.101'N
00°10.736'W
Legs:
Leg one Start to West Pier Buoy:
260° (Aprox) 0.1 Nm
Leg two West Pier to Mile Mark
162° 1.5 Nm
Leg three Mile Mark to Marina
72° 1.3 Nm
Leg four Marina to Mile Mark
252° 1.3 Nm
Leg five Mile Mark to Finsh
347° 1.5 Nm
All data verfified by GPS, RS600 and Budvar.
Notice of Race
Course:
Cross club startline (Transit of triange and Flagpole) off the beach, heading west.
West Pier Buoy to Port,
"Mile Mark" to Port
"Marina Buoy" to Starboard
"Mile Mark" to Starboard
Cross the Finish line off the beach heading west.
All craft will do one lap.
Marks:
The start/finsh line Outer Distance Mark willbe a BSC inflatable buoy.
The West Pier Buoy is the Large red can off the end of the West Pier.
The "Mile Mark" is a tall thin bouy, black and yellow in colour, marked "BMYC". The bouy is located aproximatly 1 Mile out to sea in line with the Palace Pier.
The "Marina Bouy" is another tall thin BMYC buoy located off the Marina.
Start:
One start for all boats, 5,4,1,GO, using the conventianal light sequence. A blue Peter will be hoisted in the event of an individual recall, the lights flashed on and off for a General Recall.


Tom Griffiths
---
1: Water may not be blue in all cases.
2: Also known Tom irrtatingly comes a very close second Crewing for Simon 2 years ago lost to Rog by 20 seconds, last year hit a hole and lost to Simon 48 seconds.
3: Not that it helped Roger very much he chose not to follow the GPS and went the wrong way