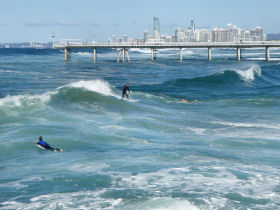 this is NOT me - obviously
Went surfing, well I say surfing, it was more like being beatern up by waves and holding a board. Cool fun. Water conciderably warmer than the air. The photo right is NOT me for one he's standing up, for 2 he's on a short board for 3 a wave like that and I wouldn't be alive to blog.
No I was nearer the shore, on one of those foam tourist proof things. I did stand up for about a second. Some of the waves were big, kerspat.
Bruised knackered and with salt water in every orifice. May have to shoot down to Port and help Al haul Jackal out. However I doubt it, next 2 days v stormy says ausie weather forcast. Great for campervaning, just dried the damn thing out (and fitted an extra rubber band on the accelerater, toped up the water etc. etc. etc.
Waiting for Campbell to get back from Sydney, he's a Kiwi, its the Tri Nations at the moment. He went to All Blacks v Wallabies. The All Blacks lost. Oops. I as the only Pom will probably have to not laugh (at least in Rugby were concidered more than a joke, unlike cricket, football, tennis err pretty much every sport bar sailing and rugby). He'll get enough stick from the ausie's I shouldn't wonder.