Went a blasting south to Port Macquarie, Al wanted halp with the boat. Of course the plan changed when I got there, but hey, warm bed, internet, meat raffle twas good.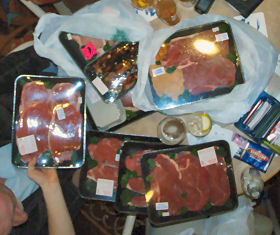 Meat
Meat Raffle? Meat Raffle? Yes its a raffle for meat. I got 10 bucks of tickets, Al and Jack got 10 too, Gavin and Anthea got 20 and we managed to win a trully astonishing quainty of meat.
There H and S might be out of hand, but if the've heard of political correctness there having none of it. In the UK we'd have Tofu alternatives incase of complaints. As Marcus Brigstock put it "Tofu is proof that Nature abhhores a Vegan". Probably a phsicists joke.
Anthea and Gavin. Jacks sister and husband? Remember is siad " you will be tested". Unfortunalty Brenda (see here) saw my little missive about the family, and infoms me, Micheal is with Danny the other brother, chippying for the Summber camp in the US Al's daughter's also at.
This changes blog post "I'M ON A TRAIN" of 17th of July.
I think there all relived that my Wicked Van has been removed from the drive of their house, i think it was having the same effect on house prices as a Daily Mail exposee of pedofiles in the neighbourhood. Foruntalty my website won't recive bad hits or google ratings from the word pedofiles cos I'm pretty sure thats not how you spell it. At least I write "Kangaroo's run the F****ers down" without hte apostrophy.