Antigua was stuffed full of massive yachts, and I don't mean loads of big Oysters, I'm talking BIG. A guy who goes to Steve and Katrin's local was engineer on a 140footer. Island Kea was one of the smallest boats in the marina despite her 49ft. Large swans and Oysters + super yachts (technically over 100ft megyacht 200ft).
Not much activity seen on most of these boats, just hanging around pushing the prices up. Did work out why this should be.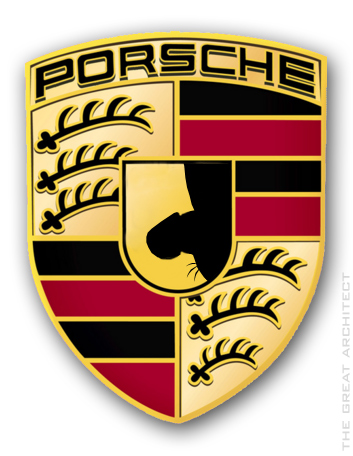 Image pinched off b3ta.com
So if your super rich and you pay your self you get taxed. If its for the business it isn't, frequently if its part of the business it can be used as a tax deduction. So pay yourself and buy a boat, you pay tax on your salary. Have your business own a yacht that you used for free may even save them tax, you won't pay a penny. That and you compensate for having a small penis. Better than a Porsche!
I swear Oyster are gonna get someone killed. Island Kea II is to my mind about the upper limit of a safe 2 person boat. Oyster are selling 55, 60, 80 ft boats to couples. An Oyster 57 in the rally had a problem and the guy was knocked out and the boat brought in by her and the kids. Now if all the hydraulic electric gadgets work that's fine. But they frequently don't. A 57footers sails cannot be handled manually, you are so taking a risk with a boat that huge. Luxury easy to operate. But if something goes wrong, no let me re-phrase when something goes wrong, because it will I'd rather be in a smaller boat. Marabu, a 58footer manual, fully old school hank on jib. Took about 5 strong people minimum to drop the jib in a breeze I suppose me Sam and the best 2 sailors on board could have managed it if we had too. Him her and kids plain couldn't do it. Did I mention 2 of the Oysters had broken booms?
I hope I'm wrong but I'd not sail as a family on a boat that big, its dangerous, one day its all gonna go wrong and someone will find out the hard way. Getting Island Kea's Genoa off mid Atlantic was tricky, Sailors who've come in recent years or done little serious racing just don't man-handle sails they're all used to roller furling. We needed to change the sheets, chafe. Caroline got lifted off the deck and her leg twisted by the rail. Try that on an 80 footer with your kids.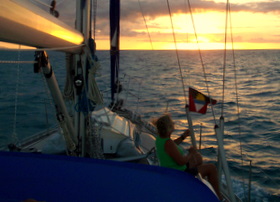 FOR SAIL*: Antiguan Courtesy Flag,
Genuine reason for sale
S'pose an update's in order. Well if you read "Yet another Atlantic Crossing" you'll notice that we broke both the autopilot rams 2 years ago. Well the new one was faulty but fixed and has been working fine. However the other was not repaired till last summer, where it was taken off and fixed. No it wasn't, this is Antigua, ironically the pirates of the Caribbean still pillage yachts from the safty of their boat yards in Antigua. They took the good one off and "fixed" that instead. This had already come to light and they then went back and fixed the right one. What we suspect happened is that they put the spares ordered for the old one in the new one, similar but different. Oh and they put the good one back on the boat, with no hydraulic fluid in it...... Doh!
So yes the good one died 2 am the first night, about half an hour after my last blog. Almost certainly due to the "repair" it wasn't supposed to have. It has left its juices all over the place. The second one that was not repaired when it should be but was later, took a lot of fitting gurgled and died. FAIL.
I helmed for 8 hours yesterday, praise be for the Hydrovane, a wind powered axillary rudder fixed to the back of the boat. New, untested, likes a bit of wind and takes some tweaking to get it to work. So far this morning its been absolutely fine, its done nearly all the steering since the wind filled in at the end of my watch last night, midnight. I hate having to steer ALL the time its bloody miserable and someone else has to get up to help with every little thing.
Katrin was using the satellite broadband today I borrowed her mail to update twitter, I'll see if I can rig a bandwidth friendly way of uploading these missives later. You'll have to learn latitude and longitude to read the twitter post.
* you saw what I did there, good wasn't it!