It looks like we made it. As a "Test Sail" 1148Nm is a little excessive. Almost any uk boat won't make that in a year. Could well be the 2nd longest passage till Australia. Maybe even longer. Been blogging, there's the initial surprise of departure, some musing is on the finances of the supper- yachts with updates, some random paint and cornish- pasty- for-a-head Star Trek radar bassed tom-foolery and a rather more personal piece about my desire to listen to "I am the one and only", by Chesney Hawkes whilst rolling down the trades - with video. Don't worry no Chesney in it, just men at work).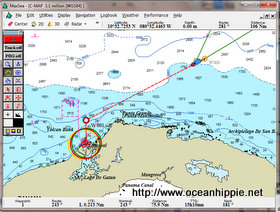 Test Sail
Anyway the test sail has been very successfully. The fridge is working and the beer is cold. Which is I am sure you'll agree the main thing. The new stick has a larger number of good modern ball block than its predecessor. The narrower main sheet with better lead is lower friction. The roller furler (though we're treating it with kid gloves) appears vastly improved, generally we're sailing very well.
Most impressive of the new and untested kit is Wendy, Wendy is for when de wind blows. Its a Hydrovane self steering gear. Autopilots are usually called George. George is dead. George has a sister Georgina. Dead. So Wendy has driven most of the last 1000 miles. Thank god. Only probem is when the wind drops and we motor, it don't work. Wind vanes definitely have a character, Sam's windpilot on Ramprasad got christened "Wallace" mid Atlantic and the name has stuck.
I made a prediction about the Alternator. About the first thing I did 2 years ago when I met Island Kea was help Steve with the alternator. Matt's boat the Grip, when I joined it in Oz had a buggered alternator. A few weeks back when staying on the Pearl with Igor and Caroline, charging problems. I'm detecting a pattern here. Doh, I hate it when I'm right. Anyway we've not investigated properly, we're due in tomorrow, the alternator is down a large hole full of wirling death, hot exaust pipes, the generator etc. Best left till the harbour.
Working:
Buggered:

The Mast
The Hydrovane (Wendy)
Engine
Genny
Most of the million other sytems and stuff.

Autopilot 1 (George)
Autopilot 2 (Georgina)
Water Maker
Alternator is playing silly buggers.
Please note positions on this blog should be transferred 49' North and 68' East to actaully agree with my current location, but when I upload it it should be correct.