Boredom breeds what Vardnean College referred to as "Professional Development". I've been fiddling with the faces function on Picasa.
Picasa's a free photo manipulation program come library program, its a Google owned freeby. It scores particularly highly since its crop enhance and effects filters are non destructive. So if you crop a photo, the original image off your camera remains unchanged, however next time you open Picasa it re-crops it before sowing you. You can have your cake and eat it as well.
I started adding people to it, it can now recognise faces. So I told it Me, Alan, Jacky and Christian and it found a hell of a lot more photo's we were in in than the few I clicked on. Old friends who are reading this should not be offended. Its just that I bought the Digital Camera for my last trip - stands to reason the largest numbers would be the crew of Jackal.
Here's the Leader board: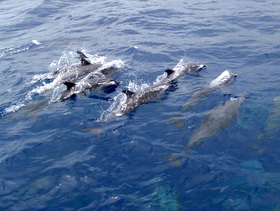 Dolphins, lots of them
Me - 374
Christian - 147
Jacky - 115
Matt - 111
Alan - 88
Mei - 73
Katrin - 59
Steve - 42
Toby - 41
Chris - 41
Paul Clark - 35
Virginia - 32
Sherm - 30
Which clearly indicates I love my self - a lot. More than twice as much as I like Christian. I love my self 3 times more than Matt (who frankly only got that far up the rankings by getting married twice). Sherm, Paul, Ginny. Your a tenth the man I am. Statistically speaking of course. Toby! Oi why then hell has Toby got into 9th Place?. Hell I've got 20 pictures of Crazy Horse. Of all the sailing club regulars many of whom I've know for 15 years appearing in the list, Simon who I regularly crew for and have crossed the Atlantic with, manages 13, Paul Clark who's got on the list due to an epic trip (with borrowed camera) to lake Garda in Italy is below him. Toby how did you do it? I've never even shared the rescue boat with him...
Old friends should be offended, Jake and James (flax) a mere 8, if it wasn't for all the band photos even Sherm wouldn't make the list, Chris has done relatively well, must have been the Holiday snaps. Toby though takes the biscuit.
The Point?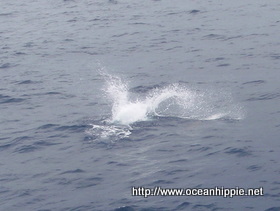 Where a Dolphin used to be
There isn't one. Today's going well its now more than 24 hours since the Engine was on. We're doing over 7 knots, with a bit of current on top, in slight seas most of the morning's been glorious sunshine. Hopefully we're in the South East Trades that will carry us all the way to the Marquesas. Tis a long way to go. 2650Nm last I looked. Yesterday we had literally a hundred dolphins playing under the bow. Normally a digital wirr think wirr click camera pointed at a dolphin will shoot empty sea, there's 9 visible in the top snap! Right is where a jumping Dolphin used to be.
We've been struggling a bit for the last few days, messy sea and no wind. Smooth and fast is good in comparison. We've also re-deployed the towed water generator. Which should save fuel. It seems to be running well with small the small blades on it. The draw back may be sharks. They bite them. Its a 12 mm thick piece of rope with an inch thick by 2foot long stainless bar on it with some little plastic blades on that. Several kilos of spinning metal. Any shark that bites that is going to know about it!