Fiji the kid
Friday we were welcomed to Savusavu by the chief, I drank too much Kava.
Several people have thought on Twitter or FB that meant Cava. With my spelling its understandable. Kava is a root, long an spindly, know here as grog. Its ground up into a powder mixed with water and drunk, with some ceremony. Its technically a narcotic, as opposed to alcohol which is a depressant. I suspect it has a lot to do with the local political problems, which are ethnic. The Indian population keeps getting successful, and there for elected. Which doesn't go down well with the ethnic Fijians. Who spend far far to long sat on their arse drinking Kava.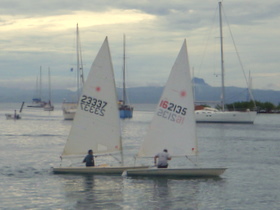 162135 is me
Yesterday, politics aside, we raced dinghies, this is not me and Matt's idea of a good dinghy, there are no A-Class cats or 14s or 600s here. Just lasers and opies. Mostly opies. I begged not to be in an opie. I don't fit. If I were to stand up I'd be in serious danger of catching my testicles on the top of the mast.
I did end up in an opie, Brian had signed his kids up for the Yachties V Kids racing, despite Annie's inability to sail. The tide was more than the wind anyway. I ended up being ballast and trainer for her. We lost. 14+ stone of Tom will really slow down a boat the size of a washing up bowl. But at least she could steer while I bailed out.
To raise money for the yacht club kids training bets were being placed on the outcome of the races. Since we'd no idea who the good kids were, and as every dinghy sailor knows yachties can's sail for s**t, this was a safe money making scam. Hans off Natiboo did well in his optimist. But two local lads on port tack carved him up when it was his right of way.
I got back just in time for the last and arbitrarily "The Final" laser race. There was for once more breeze than tide. In the opie race I'd been ballast in the fastest thing on the water was Charile from Miss Tippy swimming along with her opie on a string.
I've not sailed a laser in years, and wasn't much cop then. Somewhere in the depths of the sailing club archives[1] is an old Gybesheet, the club newsletter, which contains the phrase "Tom Capsize Griffiths". Since then I've sailed 14's and my RS 600 both which make a laser a piece of piss.
So there's me slinging the boat around the tinny start line area. Roll tacking, leaning in to gybes and pumping out. Looking quite respectable. Didn't knock my head on the boom once. The Blue Water Rallyists had been drinking pretty steadily for several hours by this time. A lot of money was promptly put on me apparently.
There were only 2 lasers out. Me and a Fijian kid. Maybe 12, maybe a bit older. He had battens in his sail, I didn't. He got to the, slightly mobile, start line early and bore off down it. I arrived just behind him headed up and stopped rather than slide along it. He was defiantly over when the whistle went, but I had the pin end. So far so good. I was behind and to windward of him. He managed to tack ahead though. I rounded the top mark a couple of feet behind. In a panic cos it had a trailing line yanked the dagger board up in case bore off better than him and we were neck and neck downwind. My better bear off worked well. He didn't squeeze me as much as he should when I got the inside line at the bottom mark so I could do a good rounding. His mistake, I think he was trying to do my favourite trick of letting the inside boat run wide cos he can't actually turn till past the mark, but he left me too much space I did a good rounding. We finished lap one with me a boat length ahead. The guy's in the committee boat did seem to have different expressions this time. We tacked opposite ways, he called starboard on me as we crossed. I held my ground and there was at least enough room for a credit card between my rudder and his bow as we crossed. No doubt though he was gaining. Cos when we crossed next I was on starboard and he had to duck me. I enjoyed that. That was my fatal mistake. Cos even after ducking me he was still laying the top mark, I should have tacked already. So much for being horrible to Fijian kids rather than concentrating on the course. He rounded ahead of me, and better this time. I caught him again down wind. Right along side, my boom over his boat. Only this time he was set for the inside line on the bottom mark. Dang. My rounding was aggressive, this time you'd have got a rizzla between my bow and his rudder. Too aggressive. couldn't get the sheet in smoothly or fast enough. I tacked off, nothing to lose at this point, my only hope was he'd run out of wind on the right hand side of the course. He didn't my gamble just meant an extra tack to get to the line and he won.
On behalf of the members of Brighton Sailing Club, The Nuie Yacht Club (of which I am a member) and the the Rallyists I apologise he beat me. Not by much. I had a good time, and one thing I really miss on these trips is the dinghy sailing.
Much latter.....
The Guy driving the Committee boat says to me "Your a hell of a laser sailor", I thought that that was nice and said modestly said I wasn't. Didn't think much of it. I was, despite having a bi for the heats, given the second prize in the lasers. I just assumed it was chaotic organisation.
Some time later the Commodore was chatting to me, and said. "you had us worried there, you bloody nearly beat our national representative".
I feel much better now. I didn't lose to A Fiji Kid, I lost to the Fiji kid. So that's OK.
---
1 - The sailing club archives are box in the sail loft with both the consistency and smell of soft peat.