*sigh* windows re-install
It may be my last windows 7 install ever? Well if Windows 10 is not a complete turkey, and, no, I'm not taking bets on that.
There is a theory, much argued that every good windows release is followed by a dud. Usually it requires some levering to fit the facts. EG win 98 miss win 98se hit*. Anyway the theory I heard last week in the comments section of Vulture Central's review of Windows 10 was that buy Skipping from Windows 8 to Windows 10 they've skipped the good one.
Now I used to install windows XP at least twice a year. Win XP just gets slower with age, there never appeared to be anything you could do about it.Well you could measure it on this handy Cruft Scale. Windows 7 doesn't accumulate cruft at nearly the rate XP did. I can usually put up with it for a year or so. Its been neatly 18 months symptoms include.
Directories in Root of C: = 14
Unable to uninstall programs
Won't auto join Wifi networks.
USB sticks have to have drive letters manually assigned from Disk Manager.
"Remember cruft is your enemy, do everything right first time and you have a minimum cruft. Every mistake you correct, every job done twice is an undo setting, a redundant file an extra registry key."
So now its time for the careful install of what I actually need and nothing more. The ruthless disabling of unused features services and crap, the replacement of windows notepad, the editing of the PATH environment variable, the group policy to prevent stuff executing in my profile directory. The intense concentration on making sure I don't get the Ask Tool Bar, Java, an XPS - whatever that is, any apple products what so ever, that ads are blocked and spyware is blocked. That my hosts file is intact and still contains the line 127.0.0.1 tvlicencing.co.uk. I never did work out why my computer was long ago calling tvlicencing.co.uk, but I don't trust the buggers as far as I can throw them.
I just hope that don't type some critical command in a months time in the middle of the outback and find its not there or doesn't run.
C:\tmp>telnet fail.com.au
'telnet' is not recognized as an internal or external command,
operable program or batch file.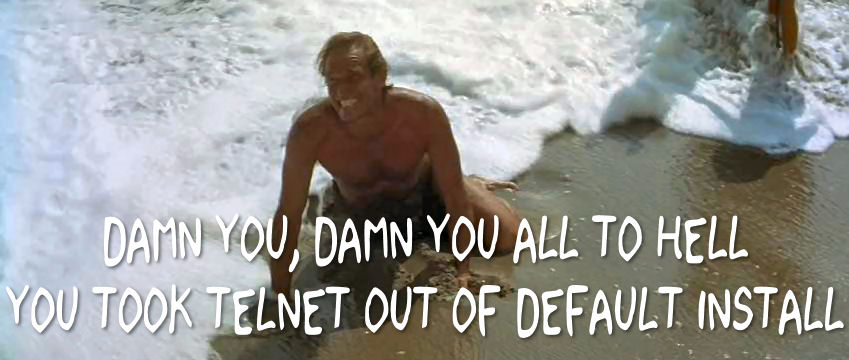 This image contains special font, a font I'd forgotten to install!
It takes about 48 hours of work to do it right, and about 3 months for me to work out what I missed. Still its done for another year. Crap, video pad - I need that...
Now what else have I forgotten?
EDIT: well I forgot to include WinRar in the PATH, so this didn't upload first time.- FIXED
* it goes something like: 95 good, 98 bad, 2000 good, ME bad, XP good, Vista bad 7 good, 8 bad.