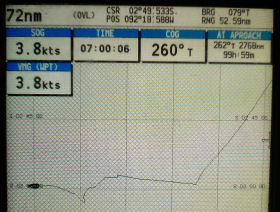 Not as think as you drink I am
Now there are 3 of us every three nights one of us get to sleep properly from 10:00pm till 6:00am. Last night was my turn
The wind on the other hand had other ideas. As soon as my head touched the pillow, the wind shifted around leaving Christian learning about hove to. I got us back on course went to bed and it happened again. After 2 more head to wind auto pilots and light wind I gave up. Stuck the motor on and went to bed. Christian waited ages till he was sure the wind had settled down. Then tried to sail again. 5 minutes later (1:40am). We're hove too again in another shift.
Al's watch started at midnight, he precedented to weave all over the ocean too, at least without my assistance. Engine starts maniacal changes of direction etc are not what I call fun, or conducive to a good nights rest.
So here I am at 7:00am having had little sleep and I'm back on the graveyards shift of 2:00am till 6:00 tonight. great.