Billions of blue blistering barnacles.
Literally. Cheap year old Greek anti fouling paint. We were going a bit slow, I wanted to stop for a swim. So over the side I go, equipped with a mask snorkel and scrubbing brush. I was viciously attacked by a fish. It was only a tiddler, maybe 6 inches long, but the f***er bit me. I was driven from the water by a six inch fish.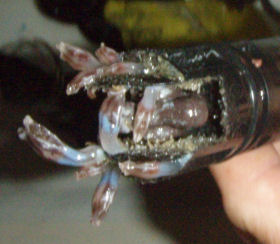 Here's the paddle wheel of the Speedo (log)
No Wonder it wasn't working.
The whole hull looks like this
There are 2 sorts of anti fouling paint, hard and soft (or ablative). The soft stuff wears down, exposing more toxic paint to the nasty sea critters. The hard stuff doesn't. Most people opt for the soft, racers the hard. Ours is clearly not working. The pacific has a repo for barnacles anyway, last time I avoided it by sailing on a boat with copper nailed all over the boat.
We've managed to coax about half a knot back out of the boat. Since its hard anti fouling me and Christian got a large rope. Passed it under the bow and while the boat was moving dragged it back and forth across the hull. We've defiantly got a lot of the buggers.

These are goose neck barnacles, not the little volcano shaped things you see on rocks. They're tubular and about an inch long. Completely cover the hull and they're slowing us down a great deal.