Approaching the island of Boring Boring,
In bad weather.
Bora Bora, the most beautiful island in the world, or a contender for it. Shame the weather is rather like that of an English Bank Holiday, damn that's bad luck. Well were here, its Sunday and the islands closed, its hard this life. None the less the yacht clubs closed.;
Its not a yacht club, its a restaurant called a yacht club. But judging by the wifi in Papeete the club is changing hands, its certainly closed. Since the anchorages here are 27 and 25 meters (and I'm being optimistic), we've borrowed their mooring on the assumption that nobody cares.
Well I'm ata beautiful island, the Yacht Clubs WiFi's out. The wonderful lagoon is around us, but I'm not allowed to swim. The islands closed. So I guess its back to bed. We'll probably leave for Raratonga tomorrow. With our fixed generator.
Yay, hope my Cook Islands driving Licence doesn't need renewal.
For those of you who don't get a postcard, sorry (could be all of you if I don't find a postbox) look below to see where I am, being rained on.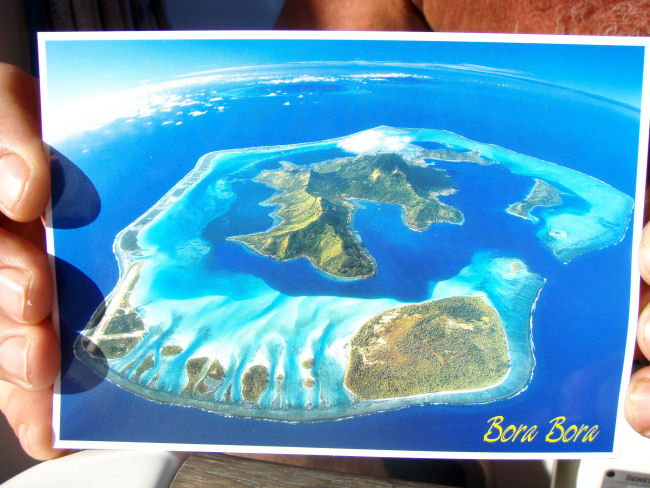 Post card of Bora Bora
Tom