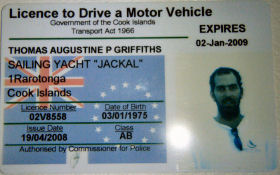 Road Legal in Rarotonga
Play

Carter USM
Damn the cook Islands beurocracy , they've lost me licence records. I had to apply for a new driving licence. They noticed I had no motor bike entitelment, didn't last time. In fact the only place I've legally driven a bike is errrrr Rarotonga. Unfortunatly I've lost my Cook Islands driving licence. I had to take a bike test.
Now the Cook Islands have been forceing people to get a licence for the islands for at least 9 years, I've held a Cook Islands driving permit before. I havn't however driven a scooter since last time I was here in 1999, OK I'm exagerating, it was Thailand in 99 I last time I drove a scooter. ARRRRGHHHHH!
I got lost on the test, "Turn left at the Gas station" Gas station? I've seen bigger sheds! The test consited of driving once around the block, all left turns. My Scooter's left indicator didn't work. I remembered to stop at the stop sign, but over the line. Still passed. Mind you a 19 year old lass who took the test was stopped by the police motor cyclist "do your indicators work" he said, she "replied what are indicators" he pointed at the button. She still passed.
Te Police station is one of a handfull of three storey buidings on the Island. Its sheathed in marble. I think the $10 for a licence and $5 for a test might be very profitable. Hell I've had 2 licences and a test. Oh and now they sell Cook Island police merchandise. I've got a Cook Islands Police cap now!

Police Islands Scooter Patrol (no driving licence at this point)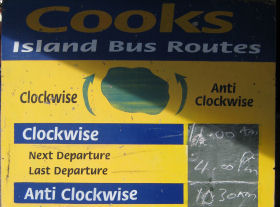 I love the Cook Islands, I don't begrudge them the driving licence fee. Its the coolest thing I brought back from my last trip and, oh I've a full motor bike licence...... Passed me test and every thing.
Getting lost on the test was an achivement, bearing in mind Rarotonga has 2 bus routes (probalbly 2 busses), clockwise and anti-clockwise. This should give you an idea of the size of the place, and how hard it was to get lost.
For the tourists there's a sign with arrows for clockwise and anti-clockwise.