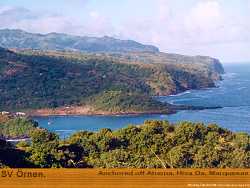 Click for full image.
This is a photo of SV Örnen taken by me in Hiva Oa in the Marquesas.
I Set it as desktop wallpaper when I get depressed about being in England.
I'm now using it whilst depressed on route to Hiva Oh, cos there's no wind and its raining. Note the reason this is A: Small, B: not of terribly good quality is that its very old.