Quantum Wave Collapse
Yay the case of Schroedinger's mast has resolved its self.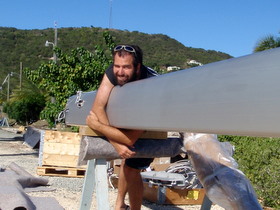 All for the want of a checkbox marked "yacht in transit" on a computer system. Theoretically it should be stepped on Tuesday. Lubbers take note stepping is putting a mast in the boat and up.
Just been out provisioning got a hire car full of food cluttering up the boat which already has lockers with chippies in them. One of these lockers used to have a door on it, behind the cushion, its now mostly full of new air conditioner and, crucially, the filler for the engine fresh water cooling circuit (boats have sea water pumped it to cool their engines but but to prevent the engine rusting there is a heat exchanger instead of a radiator to transfer the heat to the fresh water in the actual engine). Unfortunately no door. The other locker has a boxed in conduit from the new aircon. Unfortunately it also contains a toolbox full of engine spares, which no longer fits through the door.
FAIL.
We also have a couple of minor wet patches which may result in loss of tin labels in low lieing damp corners of the boat. Hmmm whats for dinner? Baked beans, lemon pie filling and sweetcorn by the open can and hope method. Nice. Being proper yachties we'll mark the tins with a permanent marker too.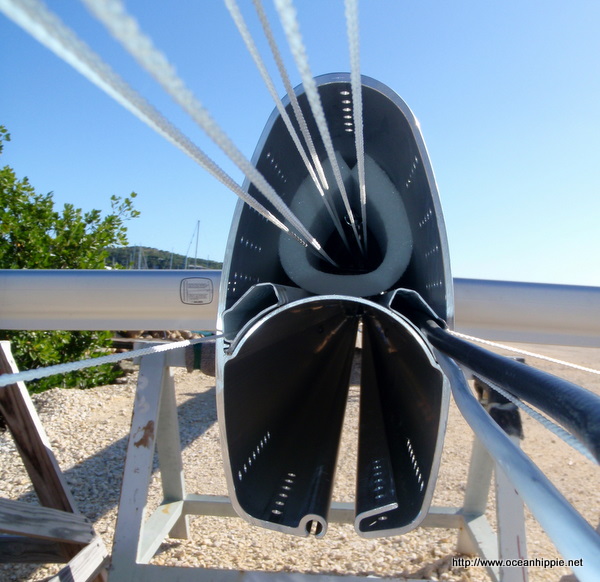 Mousing lines on the new mast
Position: 17° 12.9' N, 61° 46.6' W | Posted: Sat 30th January 2010
Cats, Carnival and Sticks
Bar the odd, and largely irrelevant Twitter message, I suppose a proper update is in order. First let us discus quantum physics, don't worry this is going somewhere.

What's Missing?
Schroedinger's Cat
Without going into excessive detail, there's a cat in a box with an atom of radioactive material a radiation detector connected to a vial of poison. As a physicist will tell you radioactive decay is a random process. Since the box is closed there is no way to know whether the cat is alive or dead. This is used in quantum physics to explain the state of uncertainty. In this case the cat is both alive and dead at the same time.
Believe it or not this quantum third state is applicable to masts as well. Island Kea has a mast, in a box, a shipping crate actually. This mast is both here and not here. A quantum state of uncertainty known as customs.
We have a mast but on Friday they changed the way customs deal with untaxed goods. Yachts are frequently not necessary part of the country they may happen to be in and sometimes do not have to pay import duties. Island Kea is (supposed) to be "in transit" and its mast I believe is not paying tax on the new stick (or mast). However the computers have crashed due to the new customs rules. So are mast is here but not here at the same time.
Now normally you'd use Newtonian physics on masts, but in this case quantum theory works better.
Who says God doesn't negotiate?
Now were on a bit of a schedule here, as Goldie Lookin Chain put it "Jesus was nailed up to some wood, 2000 years later book sales are still good". I like to blame the Abrahamic religious sects for pretty much everything, but I've got to give 'em credit, this is the pagan's fault too. Jesus was according to the Christians, crucified. It obviously wasn't a terribly memorable occasion cos no one's entirely certain when it happened. In fact they claim it happed at Easter named after Eoste, who's pagan date moves around. The 40 days before Easter it is lent and at the start of lent its Carnival!
South America, the Caribbean in general grinds to a halt. Including the Panama Canal. We're supposed to go through with the rest of the Blue Water Rally. If we don't get to Panama on the 12th the were going to be held a week at least probably more. We've good trade winds. If we can run 200Nm a day we can make Panama in 6 days. Its still doable but getting very very tight.
In summary, I'm still in Antigua. Been working really hard on the boat (gallery soon). if we get the mast off the damn docks in St Johns pronto and its put in pronto and we sail like demons (200Nm a day is a hell of a run) we might still make it.
Ever seen room 101 on the telly? Well Caribbean Customs made it in, as did motor boat owners.
Position: 17° 12.7' N, 61° 46.5' W | Posted: Fri 29th January 2010
Here Come's my Ride

Caroline and Laika come to pick me up from the dinghy dock at Nelson's Dockyard, English Harbour
Position: 17° 43.2' N, 61° 45.9' W | Posted: Fri 22nd January 2010
Looking Good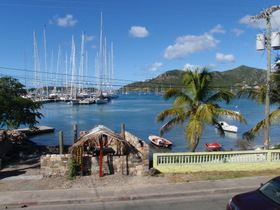 Guest House Bar View
I'm here, been staying in the Waterfront Guest House, which could use some more windows and its Internet is broken. This is made up for by the guy's that run it and the location which is fab!
I met up with Caroline (the other Atlantic crossing crew on Island Kea last time) and am going to stay with her and Egor , and their dog on their boat for a few days in English Harbour.
Island Kea is due back in the water Wednesday, Steve and Katrin are due on Tuesday. The guy in the boat yard is expecting the new mast Monday. Its all looking up. Oh and its not snowing did I mention that? Might be going to a beach party tonight I remember the last one of those I did here.
Antigua's still expensive, have offloaded some of my stuff, gave Caroline my old laptop. Which went down well. It was supplied in a beat up old rucksack. The rucksack's come home after a long 9 years away. I acquired it from a bin in English Harbour in 2001.
For the PierToPier guy's the internet here really is broken, I checked. There's three routers all natting again and again all running DHCP. No passwords and the guy who sets it all up is MIA. Its all actually working, but it connects to the Internet via a wireless service which terminates in a homemade box - a surface mount socket box with a lead disappearing out the window, a plug in the front 2 unexplained LED's and a power connector drilled into the side. Massive packet loss.
I'm wondering if I should stay and start a WiFi buissnes, I can do better than that!
Position: 17° 88.2' N, 61° 46.1' W | Posted: Sat 16th January 2010
Right I'm really going this time.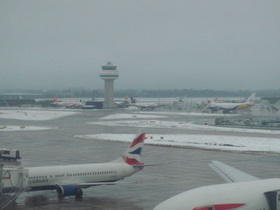 Gatwick Airport
If your reading this I've finally successfully gotten to Antigua. The Island may have sunk under the weight of my crap. But I'll have got there.
This is because, unlike Barbados, KL, Dubai and I rather suspect pretty much every other airport in the world Gatwick has no free WiFi. Best of bugger of British to you.
That means this was uploaded from Antigua - the odds are neither it or I will surviving the crash so Antigua it will be. For the many of you like Alrik, BEC and BSC who's constant "I thought you'd gone" lines were beginning to grate here's a timeline:
Booked Flight August, for December the 28th, right in the middle of the strike. I was livid, grrrr.
The day after I found out about the strike I found out IKII (Island Kea II) had lost her mast. Suddenly the strike was an opportunity to move the flight at no cost to me. Whole strike thing was kicking off so I randomly chose a date in January and booked it.
Went ahead with the "Leaving Do" anyway, 23rd much beer was consumed, the additional leaving do at work was cancelled due to snow day.
Found my flight was a Sunday 10th Jan which was inconvenient, but hey snow disruption so I moved it to Wednesday 13th at no cost (again). Also it looked like it was going to snow like mad on Saturday. It didn't. Wednesday looked clear on the forecast, it wasn't
It snowed on the Tuesday night a lot carried on through Wednesday. So There I am struggling though the snow to Gatwick, through train FAIL and inter-terminal shuttle FAIL. To find as expected. Plane FAIL.
This led to me appearing last night at the BSC (open all weather) bar. To the amusement of the barflies.
So here I am looking out the window of gate 58, at the snow, Gatwick hair port, shy one firewire lead I was confidently expecting to get from Dixons (closed for refurbishment). I didn't get one from Maplins for 2 reasons, 1: Price hell the camcorder was only twice that! 2: length I want to connect a camcorder to a laptop not scale Everest and still be connected to base camp.
P.S. Whether is its Dixons or Dixon's I neither know nor care.
P.P.S. I'm pretty sure about Maplins not being Maplin's.
P.P.P.S. Still need a 4 pin to 4pin firewire lead if your reading this in Antigua.
Position: 51° 90' N, 0° 11' W | Posted: Thu 14th January 2010

December
February