WiFi and CAMRA.
WiFi obviously stands for "Wireless Fidelity" and CAMRA, the infamous Campaign For Real Ale. The two appear to me completely incompatible, the sort of pubs that I like are the ones that serve good beer. Ok I'm not a connoisseur, but reasonable beer is a must. Unfortunately the WiFi pubs or Brighton don't have decent beer. Here's a summary:

Heist - lovely pub, nice staff PierToPier.net pub. Oh sorry its trendy "Bar". Gas Tap Tetley's oh and its not worked for weeks.

Audio (well Above Audio) open to 1am, before the changes, cocktails, comfy, loads of subtly hidden plugs for your PSU - Beer Lousy - Gas Tap John Smiths The Loose connection pubs don't stack up too good either. Near me are the: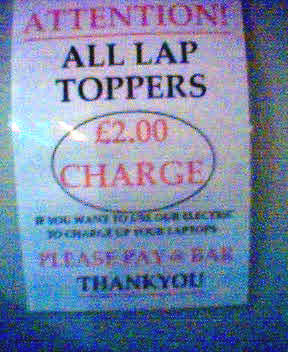 Open House - Art work sofas, garden and on my street and at last beer not piss, its Harveys Sussex Bitter - can they look after it can they f**k poor at best and seen them run out of it mid week for no good reason. Oh and this is the Headquarters of the Zel chain...

Hare and hounds, seems to have gone up market recently, fights seem to happen across the road at circus circus these days. Firstly they make the geek very welcome by hoards of bad laminated signs informing you that if your use their electricity you have to pay - man they need photoshop. Is the beer drinkable - nope.

A hundred yards either way from the Hare and Hounds is good beer - the Rosehill and the Cobbler's Thumb. The Cobbler's I'm particularly fond of. They cheat and get the Harveys in direct from the brewery, I believe, not an intermediary. Oh and the musics good Unfortunately I have to rant offline like now...

Other WiFi pubs in Brighton include Grand Central, naaaa, and its up a hill Black Lyon (don't know). If you go far enough its not so bad the Sidewinder was perfectly drinkable last time I was in there, the Earth and Stars too. Last time I was in there I was proxy bidding due to some friend's who live near by NTL connection being out. What is it with NTL and Sunday? Mine used to die every Sunday too.