Sad News
It is well deep sadness I woke this morning to the news that all 4 people on Yacht Quest have been killed by their captors.
My condolences go out to Bob and Phyllis's and Jean, Scott Adam's families and friends. I knew Bob and Phyllis well, they were both fabulous people. It is a sad loss to all of us. Bob and Phyllis where the only other people I have ever met who'd sailed the Pacific before always ready to share their knowledge and help others. Special people, taken from us prematurely. You will be remembered, and missed.
Somali Pirates
It is with great sadness I report that the American sailing yacht Quest appears to have been seized by pirates somewhere in the Gulf of Aden / North Indian ocean area.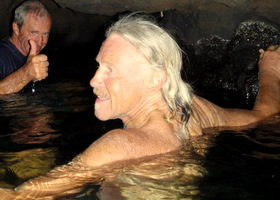 Bob in Nuku Hiva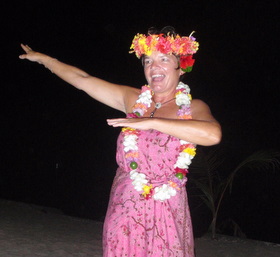 Phyllis in Tahaa
The yacht name is familiar to me but I have not met the Owners , reported as Jean and Scott Adams. However they're crew, Bob and Phyllis I know very well, both have been on the BWR since I joined it back in Antigua. In fact they had been on the previous rally, and were on their second trip around.
My heart goes out to Bob and Phyllis, and the Adam's and their families. And to the rest of the BWR boats.
The yacht is reportedly being shadowed by an American warship, so there is hope that they can be intercepted before they make land fall. Reportedly the crew and pirates are still on board.
Details are still sketchy, but apparently the yacht was not with the other Blue Water Rally boats when it was captured.
The international community (hah) has been combating the piracy problem in the area, but it is a fully fledged industry. Large companies have been paying ransoms for years, giving it a large profitability, the traditional marine industries of the area have been destroyed by illegal foreign factory fishing and pollution. The intervention of the western navy's in recent years came far to late, and is far from succeeding last I heard.
There's some video here:
Apple's greatest blunder.
You know what I'm talking about its iTunes.
When the first iPod's came out, with simple buttons and massive hard disk storage, yes a program was needed to manage your music.
As time went on and the iPod range expanded, with the shuffle and the nano, iTunes sort of took care of your album art and so on. Sort of, the cracks were begining to show.
The iPod touch.
The touch was the test bed for iPhone, mine finally expired in a dinghy accident not long ago. I loved my touch, I used to set up authentication for users of PierToPier.net and to do ssh to servers, serious, better than PDA stuff. iTunes began to be a real drag. On my touch I could and least copy photos back and forth with out recourse to the stupid crap and appalling iTunes photo sync. Previously when I tried to do it on my Nano, iTunes filled up my laptop's hard disk and crashed it creating masses of hidden files larger than the original 8MP camera pics. FAIL.
The point is I could use the iPod touch as a PDA, and as a notebook, and a computer and a support tool. Instant messaging the support team at college when out on jobs. Browsing the web, many many of the tasks I would need a laptop for. Many times I would have carted a full size laptop I used the touch instead, down the SC on a Wednesday, took it ashore in the dinghy in my pocket. Fantastic gadget. The problem with it? iTunes. Its dreadful. Photos It couldn't handle. I don't want my video's mixed in with a second rate music app. And because apple want you to go through the god awful iTunes bloated mess, I had to use a weird and probably dangerously insecure app on my laptop and an impossible for normal people ebook reader to copy books on for my night watch reading mid ocean.
By now iTunes is so bloated its impossible to update outside of a mega internet connection. I had to carry a copy on a hard disk drive to act as IT support for iPod users.
Huge Bloated and slow.
iTunes in the later noughties.
Music - even on a 2ghz core duo, dragging and dropping or moving files it becomes unresponsive for tens of seconds at a time.
Notes - tapping a memo in you touch? The only way to get it off again is to paste it into a field of a contact and sync the contacts.
Contact sync - the touch can handle email and therefore contacts. iTunes made a frightful hash of mine.
eBooks - no you can't copy them have to use stanza and a mess.
video's - I don't want them in my music library. I don't need to Manage them.
Photo's - don't trust it not to waste time disk space or go near my pictures.
The iPhone
The iPhone is know throughout the world as a fantastic gadget. They really are great. I've only really got to grips with one lately. Mates have one.
What the iPhone can't do. Well contacts. Ever since my second black and white nokia in 2001 I've been able to send and receive contacts with laptop's or other phones via either, back in the day, infrared, and bluetooth. Tried to send to an iPhone Un-urrrrr. No, they clam to have bluetooth but don't. No, to do anything with contacts you have to sync them with iTunes.
Notes - same as the iPod touch, not under windows. Camera? no you've got to use iTunes for that as well (i think). You already know my opinion on that.
Added bonus? oh yes, you have to use your iTunes on your PC. You can't just plug it (yes plug it - in this day and age?) into someone else's PC.
All the fabulous stuff I can do with a touch, plus the convenience of internet and a phone. I have even less need of a laptop, only I do cos. i cant plug it into any old PC and upload the pics to my website or do it on the phone, receive contacts. I have to sync it with iTunes. Slow time consuming and mostly unnecessary. I can navigate a boat, using the GPS, and the fantastic Navioincs chart app but I can't do contacts or note taking.
The iPhone is a truly great gadget, they only failing is you have to tether it to PC with a bit of wire to unlock its potential. Its like buying an electric car, and instead of a battery putting a lead to a plug.
the iPad a laptop killer.
Mei has an iPad, or to give it its proper name a "fondleslab", now may doesn't have a computer. OK she does, but her laptop says "Made in The British Empire by Babbage and Co." and doesn't use it. Probably because carrier pigeons are quicker.
She's a girl.... and there fore wants her wedding pictures on it. Its even got a button to make it a photo frame.
Damn, why, if you've got an iPod and your "Normal" would you want a PC. You can browse the net write on it. Another mate bought one solely as a backup navigation system GPS + Navioincs charts at a fraction of the cost of a marine chart plotter - and it has its own back up power.
Now I can't sync photos cos. I don't have them, she has them on a drive, and the ridiculously expensive camera adapter thing on her piePad. Even so you have to copy the photos to a directory called dcim (trick it into thinking its a camera) and then import. All for the want of a file browser type app. Instead of the horrible hash up we used your supposed to use iTunes and sync them with a PC.
Worse than Microsoft.
Microsoft is famous for repeatedly adding useless stuff to existing products bloating them behind belief and reason. Apple started again from scratch with OSX to get around this problem. Probably the best thing they ever did with their PCs. iTunes is now meant to handle your iPad - an alternative to a PC. look after your contacts, photos, notes, videos, applications, and god knows what else. Despite it being a simple music app.
Layer after layer of crap has been added, stuff that should be done by the phone, or iPad. Because its closed a apple you can't really do anything about it.
A plea.
Apple Please, Please, do something about iTunes. Its a dreadful stinking morass of a product. iPad's can handle it on their end, iPhones too. These aren't slaves to the PC these are independent machines. Replace iTunes with an app, on the touch, pad or iPhone. Let it share via SAMBA, or usb hard drive your photo's with others, let it send and receive contacts by bluetooth. I can see in my head check boxes for "share this album" and seeing it on a PC. as a network share, or plugging it in via its cable in an Internet cafe and seeing your pics.
The iPhone's camera would be good enough for my general use, if, and only if i could share with it. If I'm tied to a PC anyway, especially with the steaming poo that is iTunes, I'll take a real camera.
This is a plea - not a rant. But I'm looking forward to trying out (properly) android. As, since Google doesn't really have an iTunes integrated, PC., locked in, online music store equivalent to lock you into, it will I suspect make for better stand alone products in the medium, to long turn.
I'm not the only one dirty about iTunes, the Reg complained about it a while back. Though I can't find it the gist was it was slow and crap. That was pre-piePad.
International Rescue
Despite my and frankly Matt's reputation for maritime mayhem and carnage, recently its not been us that needs rescueing.
One of my favourite T-Shirts headed for hospital on Wednesday night, with blood showing after one of the crew of a beneteau 57 just ahead of us in the Wednesday evening race out of CYCA got caught by the boom in a acedental gybe and knocked over board.
We picked him up, put him in a clean T-Shirt and took him ashore, one of his mates was seen taking him off in a car. Hope he's OK he was a bit in shock when we fished him out of the drink.
On Sunday, having survived a Southerly Buster as the southerly change is known by the local sailing community. Which resulted in some frankly balistic speeds in a boat that "Never Planes". When I say planes that's when the hull breaks free and skims allong the surface - like a sufboard down a wave. Matt's boat, The Grip has only done it, without wave assistance twice. Last time it required a large spinnaker. Sunday we did it with white sail.
Mind you we had to swap jobs, all weight went on the rail I took over he main cos other Tom had to act as power assited steering two man tiller loads.
Windy, YES.
So windy when we returned to the mooring we noticed a small boat, maybe 27ft floating somewhere odd near Clarke Island nose heavy. No sign of anyone onboard. Sane people were all in pubs.
Matt's boat having been heeled to 20 degrees by the wind on the bare mast I susgested rather than rescue it ourselves we call it in.
Before the radio call was even complete the NSW Police boat came hammering down the harbour lights blazing at about 30kns. The call was delayed because VMR* Sydney now call them selves Sydney Rescue or some such and insited on correcting us even after they'd alread answered the other call sign.
We suspect the boat was nose down beacuse its mooring was still attached. Moorings are usually a lump of concrete (in Tonga the one we were on was a fridge freeze full of cement) on the bottom with a rope tied to them. The Policeman fiddling on the bow and the nose down would support the theory. Anyway they towed it away.
So one boat rescue organised and one bloke fished out of the drink is a pretty good rechord for this week.
* Volunteer Marine Rescue - yes we have met...
dial 9999999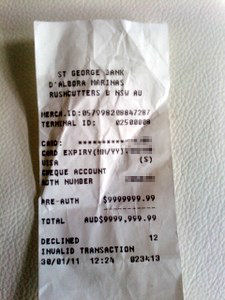 10 Million Dollars!
Matt's credit card isn't working - I think we have a culprit right here.....
Its expencive being a boat owner. All we wanted was a few liters of Diesel. Racing Yachtsmen are like minicabs. They never have more than £5 quid in the tank.
Look carefuly at the recept right, it tried to pre-auth Nine Million Nine Hundred and Ninety Nine Thousand Nine Hundred and Ninety Nine Dollars and Ninety Nine Cents.
Also, yes shops always put XXX.99 rather than the real number, but did they seriaously think with that many figures someone was going to go "Look Dear Its not even 10 Million"
This has happend before, so Matt ask the Fule Zombie "Before I do this is it going to try and take my card for a million bucks" the Fuel Zombie, quite rightly said "no", but failed to elablerate that Matt's worry was out by a factor of 10.
Still, it separates the men from the boys, Johnathan off Aqualuna stuck his card in that very pump about 2 weeks back and his credit card didn't seem to mind.