Floop or Twoop?
Computers are dumb. Really dumb they're like a gullible younger sybling. The apprentice who's looking for the left handed hammer or a long weight.
They do exaclty what you tell them, and carry on doing it unless you tell them to stop. A partiluarly dangerios way of exploiting computer stupidity are loops. I'm my IT carrer I've seen 2 text book examples. A Mail Loop (Yay well done Contractor from "place near birmingham" Software and all on my ownsome created a bridgeloop.
The Mail Loop: Nice contractor sets up our new mail system, for some of us, leaving rest on the old system. Tells new system to deliver mail for people who aren't users of new system to the old system. Unfortuately he set the old system up exactly the same way. No problem, if you were on the old and sent to someone on the new, old would pass mail to new. Sounds great.
The smart umuncst you will realise the fatal flaw. Say you send a mail to typo@ourmail.example. Typo is not on the new server and so it sends it to the old server, typo's not on the old server so it sends it to the new server. The mail carries on going around in a loop. YAY. Computers are dumb. Wait for enough typos@ and Spam@ and evetually one of the servers will crash as the number of items looping arround increaces.
Now my second hard core example inolves 3 wireless access points all bridged via WDS. So if you say sent a piece of data from a to b, it would go straight to b, but also get to b a bit later via c. It would arrive at b twice and b will reply twice and so on. This sort of thing is easily fixed by something called "Spanning Tree Protocol".
Now ladies and Gentlemen, concider the following Facebook Apps. Twitter, and Twitter updater. One updates your Twitter from your Facebook Status the other updates your facebook stutus from your Twitter. Right lets install both and see what happens. Lets call it a floop? or a Twoop (facebook loop or twitter loop). Will both these behemoth websites frantically try and update each other till one or other crashes? Can a floop bring down web 2.0 as we know it. As a repsoncible user of both facebook and twitter I thought I'd find out.
Sad news is the twoop doesn't exist. The programmer of fb2twitter had the good sence to look for Dupicates. Not so the Twiter app people.
Tom doesn't destroy social networking as we know it. Nor does he get a neat feed. Duplicates ago go. But only 2 of each item.
Dang.
Inflicting Missery on the world
Tom is atempting a franenstiene experiment of mosterious proportions.
Link Twitter to facebook
Link Facebook to Twitter (har har programing loop)
LInk webisite to twitter via RSS and twitter feed
Take over the world.
iniciate project "TinnedMeat"
Have Cake and eat it as well.
mmmmm Cake.
Proactive is a brand of Yogurt
Appraisal Targets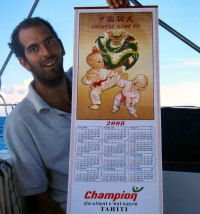 A couple of years back, showing my ususal respect for authority and dodgy sense of humor I was trying to liven up my Apraisal meeting with my boss. On of the questions he was obliged to ask was:
"Where do you see yourself in 2 years Time"
I cheefully replied "Tahiti"
At that point matters moved on to more serious items. However I left the Dept and then the Varndean College. I'm back there now, which tripped my memory, looked up Robin and told him I'd achieved my appraisal traget - I made it to Tahiti. He replied along the lines of that the only one of the appraisal targets I ve set thats ever been achieved.
Whilst providing feedback to other members of staff's appraisals questionaires used to get sent arround one of the questions was always "Is he/she proactive in the professional development of staff" to which I always replied. "Proactive is a brand of yogurt" no one ever took me to task on this I can only conculde that nobody reads them.
Oh happy days
Its always great when the really deserving cock up. BNP and the Scientologists in one day.
Firstly the racist morons used what they thought was a great British spitfire in one of their dumb anti immagration posters. Unfortualty a bright spark pointed out the markings on said spitfire indicated it was from 303 squadron, who's pilots were errrrr.... Poles!
"Bloody Poles... Cummin over here and shootin at are germans"
Secondly the bloody alien botherers the Scientologist Cult who've been claiming for years the whole Aliens taking over our bodies thing was was a lie, and denying the'd ever said it, not too mention suing people who said otherwise. Well a journalist caught one of their spokes people out, the fact that you can hear el ron hubbord talking about the chief alien Xanu on a handy mp3 from WikiLeaks, and read his memo's mentioning it on errr WikiLeaks, meant the journalist didn't exactly have to work hard.
I love WikILeaks. You can read about the morons from the bnp here http://www.theregister.co.uk/2009/03/04/polish_spitfire/, and listen to el ron nutter here. http://www.wikileaks.com/wiki/Scientology_cult_Hubbard_Class_VIII_Xenu_transcripts_1968