No shock, hard drive is running normally
Well we've a bit less wind than earlier and it looks like its begun its shift to the east. Maybe a bit calmer night tonight. Mind you that's the price you pay for 2 days of 190+ mile runs. Miles are flying by.

Damn things in shock again
We've hit the 1/3 way point about 4pm that's just under 6 1/2 days. Close to twice the speed I managed last time. Nice.
I've finally waded through the morass that is the Windows 7 control panel to find the controls for my overly clever hard disk drive. Its possible to turn it off, I've managed to turn it down which is safer. Still goes into shock occasionally though. Yesterdays problems were that I killed the process called TPshocks.exe. Which didn't stop it switching the drive off every wave but did stop me from telling it what to do.
Hoist by my own petard again.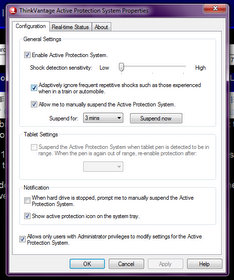 The Joy of Technology
Slept better last night, Steve's been reading pilot books, that's a good sign. We could make Nuka Hiva in another 12 days at this speed. Unlikely. Be nice not to break my 26 days at sea record. Really I have no desire to break that one.
I'm pretty certain I've never run 200 Nautical in a day, we were only 6 shy of that this morning. We not seen as much favourable current as I'd have liked so we may get another shot at 200.
Laptop's doing pretty well apart from the crappy power saving. If I press the button it hibernates. If I close the lid it sleeps, if I press the button then closes the lid it starts to hibernate then stops, eats its battery then when you open it up, hibernates its self. This is either Lenovo or M$'s fault. Useless plonkers. Despite this its battery disappeared remarkably quick earlier, then ran for 20 minutes with 0%. Go figure. My laptop tells me battery was made 26th of June 2006, first used in July 08 is at 25 % charge with 3 hours eight minutes to go to full charge. You don't get that kind of detail from a PC world computer. Its better than that, its been cycled 156 times, its at 35 degrees, charge current 1.75 amps at 16.02volts. 20.15 watt hours are available out of a 74.88 Wh capacity. Does yours tell you that?
Now if your wondering why I buy second hand X series thinkpads all the time, my battery is excellent, the software looking after it is excellent, if your much younger laptop battery is dead or dying. Can't afford a new one of these mind, they're not cheap. God I am a sad geek.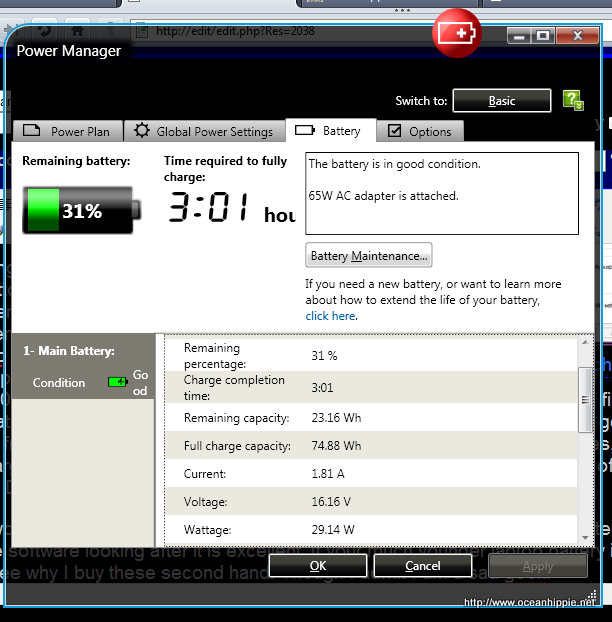 Its tomorrow, can't be bothered to start a new post this ones open. This ones not going to win any awards anyway.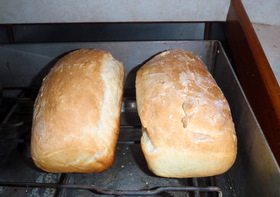 Masterbaker
Bread's a baking, smells lovely, I'm off watch but still not back abed waiting for it to brown. I may have mentioned this but I can't find where so here goes again. I hate cooking, I'm lazy I live in the deli across the road (hello Ivan). Never really saw the point of making bread when there's a perfectly good bakery nearby. In fact as a bit of Tom trivia I've never made bread on land in my life, pretty sure never at anchor or alongside either. I'm a deep water master baker. Yes I had to learn how to do it, but Simon taught me first on Marabu mid North Sea and again mid Atlantic. Don't tell him he wouldn't like my improved technique picked up of Jacky, its a bit eco unfriendly. You can guarantee a nice warm spot for it to rise if you use the oven....
Sometimes the sleep deprivation is handy means you can go back to bed. Stay awake too much at night, either deliberately on watch or by being rolled around you bunk when your off watch. Not much too do at present, passage making is like that on the good days. Miles rolling by nothing to see nothing to do. Like I say that's the way I like it. Apparently the lights of a ship were visiblelast night, that's the fourth one + Aqualuna who we left Puerto Ayora with, god this ocean's getting crowded.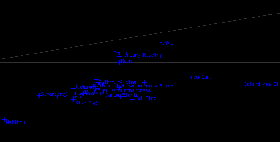 Yesterday's Plot Click to Enbiggen
I may stay up till after the radio net now that's at 10:00am, we're net controllers for the day. We're not as far back as we were from most of the fleet. However there are 2 boats in Puerto Ayora, still, Moonshiner and Scott Free. Roundabout's left 2 days behind us, she's a big disco 55 so may be reeling us in, we've not heard her on the radio net so we don't know. Of the boats on the net were furthest back. Gotta deal going with Mercury Rising to help us out. They left 2 days ahead of us and 1 to three days behind most of the the others. Soon to overhaul Briet and Aspen looking at yesterday's run. How do I know this? - as it says above I'm as sad geek, I've a PHP haversine formulae which ahem, I've lost the instructions for so have fudged to give me Nautical miles (I think ÷ 1.15 is good enough and produces believable answers.) its a relatively straightforward task to plot them using the php GD library. Click the picture above to see the output.
You may be able to find this online if you try either on the BWR site or YotPlot (may be yacht plot). I'm 1000+ miles from the nearest bit of land, no google. Here's why we're going to struggle on the radio net we're tail end Charlie:
| | | | |
| --- | --- | --- | --- |
| Angel | Range 595Nm (probalby), | 7°36'S | 115°15'W |
| Aqualuna | Range 203Nm (probalby), | 6°42'S | 108°39'W |
| Aspen | Range 505Nm (probalby), | 5°27'S | 113°33'W |
| Bali Blue | Range 545Nm (probalby), | 7°14'S | 114°25'W |
| Bionic | Range 464Nm (probalby), | 8°7'S | 113°0'W |
| Blue Magic | Range 643Nm (probalby), | 8°20'S | 116°0'W |
| Briet | Range 472Nm (probalby), | 5°58'S | 113°5'W |
| Camomile | Range 526Nm (probalby), | 7°51'S | 114°4'W |
| Chsalonia | Range 458Nm (probalby), | 7°32'S | 112°57'W |
| Enchantress | Range 466Nm (probalby), | 7°33'S | 113°5'W |
| Fai Tira | Range 418Nm (probalby), | 8°19'S | 112°12'W |
| Fugue | Range 356Nm (probalby), | 4°32'S | 110°37'W |
| Gauntine III | Range 642Nm (probalby), | 8°2'S | 116°1'W |
| Island kea II | Range 0Nm (probalby), | 7°9'S | 105°17'W |
| Jackamy | Range 641Nm (probalby), | 7°37'S | 116°1'W |
| Lucy Alice | Range 369Nm (probalby), | 7°14'S | 111°28'W |
| Mercury Riseing | Range 473Nm (probalby), | 5°35'S | 113°2'W |
| MissTippy | Range 710Nm (probalby), | 7°58'S | 117°9'W |
| Moonshiner | Range 978Nm (probalby), | 0°45'S | 90°18'W |
| Natibou | Range 911Nm (probalby), | 9°35'S | 120°23'W |
| Norsa | Range 569Nm (probalby), | 7°24'S | 114°49'W |
| Perigrina | Range 564Nm (probalby), | 7°30'S | 114°44'W |
| Rayla | Range 603Nm (probalby), | 7°56'S | 115°22'W |
| Scot Free | Range 978Nm (probalby), | 0°45'S | 90°18'W |
| Simanderal | Range 769Nm (probalby), | 8°5'S | 118°9'W |
| Spitit of Nina | Range 550Nm (probalby), | 7°2'S | 114°30'W |
Probably a few boats missing, no Roundabout or Peter Pan I suspect. Skipped Scott Free as they're back in Puerto Ayora. In summary. Miss Tippy's a big new Oyster, Aqualuna, Blue Magic and Roundabout are brand new Discovery 55's. With Jackamy these are the big fellas and designed with this sort of passage in mind. Natiboo and Spirit of Nina are cats. Natiboos fast with an early start to boot. The rest are "normal" boats between about 35 and 45 feet, a couple of Island Packets Fugue and Rayla, a 20 year old 42ft Westerly (Camomile), Lucy Alice is a 42ft Oyster (normal boat, buit in 88 - not like the posh modern ones). Normal stuff. Gaultine III's a bit odd, ketch rig with no sail hanked on her Mizzen. Suspect she's a borderline motor sailor, but big though. Fia Tira's a hard chine steel boat.
This puts us top of the second divison as it were. At 49 ft were bigger than the main fleet, but the leap to the first division is a large one. The Miss Tippy's and Disco's are 20 years younger and a big jump larger. The early birds left on Tuesday, the modal group was Wednesday, a few went Thursday, Fugue and Mercury Rising Friday, us and Aqualuna a week today (Sunday) so its OK we're last. We seem to be gaining but its hard to be sure, its heard to here all the positions. I'm fairly confident in reeling in some of them before we get to Nuku Hiva.
Oooh this got a bit long...... Island Kea II Out.