End of an Era?
I'm sitting here, in JJ's Garage in Darwin Australia feeling nostalgic. For many years I've been involved with the PierToPier.net free WiFi in Brighton, an experiment in community networking. Its glory years are behind it, I'll admit. And it may very well stop altogether.
I am justifiably proud of what we achieved, and of my own contributions to the project.
Brighton is one of the best places to find free WiFi I've ever been to, at one stage and a long time ago to boot, we provided free WiFi over a stretch of beach about a mile long as well as 6 pubs and 2 hotels. At approximately the same time another company called Loose Connection were using a free to users model in other pubs and bars around town. Between the 2 of us I firmly believe we put Brighton on the road to where it is today. You can walk into a pub or café in Brighton and expect there to be free WiFi. Nowhere else I've ever been is free WiFi so common.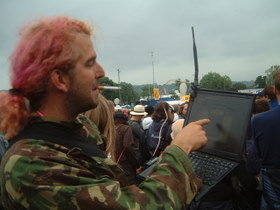 Tom at Pyramid Stage
I remember with fondness the great Glastonbury festival of I think 2005, was it really 5 years ago?. We took WiFi kit and wirelessed up large sections of the festival - with limited success, we didn't build the large are network we wanted. None the less when the rain, inevitably, came down, out went all the power, taking out swathes of the infrastructure. PierToPier's long distance links loved it with the interference from the the myriad of other systems off line our long distance links popped up nocely. Thanks to Richards car battery start pack and my £30 inverter. The Glastonbury web tent ran on our WiFi and laptops throughout the rainstorm. The BBC cancelled the "Weather from Glastonbury" ironically because of the weather. My tent flooded and I had to get up to get my laptop out of the water. That morning the news had pictures of wet muddy and bedraggled people, PierToPier.net got those photo's out. While the BBC and ITV cancelled their coverage.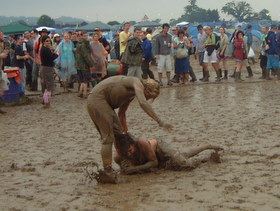 Muddy Linux is Born
The following day, BT, famous DJ (Brian Townsend), flew in from the US to do a set. British Airways, fairly predictably, lost his luggage. Me Ben and Chris, with the help of John Scott's frankly lethal bicycle set about popping laptops on all our hotspots and downloading random songs from his server in the US and burning them to disk. We got enough material together for a set and I remember rushing on to the stage with seconds to go with another CD of tracks.
A blog post by a fan that I have now lost (sorry) claimed it was the "Best Set Ever", little did he know it was chosen by me Chris and Ben, who'd never heard of him, by songs we liked the names of but had never heard.
The following year we went to the Glade Festival. Got right royally screwed there. We should have been paid. However we learned the lessons from Glastonbury and had way more powerful antennas and I'd learnt and customized pebble linux, naming it "muddy" for obvious reasons. It performed brilliantly. Before the event I streamed to footy over a mile from behind a hill. It was Fabulous.
On my return from Glade, Muddy went in to all the boxes on the seafront and Granville Hotel and Audio. The fishing museum kept running on it despite the rust for an astonishing period. The SC hut node's flash card survived the glade festival, and being washed in my trousers, and was still working up until a week ago.
I made pebble into muddy, added support for usb webcams, compiled the Kernel and added scripts to do dynamic routing with Quagga, OSPF and WDS. It didn't exactly work well or simply, but it did work. And still does. To the end of they're days the Granville, the beach and Audio were all still running it. And my hacked up version of OpenWRT in the pubs worked well to. 100 days of uptime was normal, unless someone inthe sailing club ignored the DO NOT TURN OFF sign...
Photo's of The Glade, and Glastonbruy are available.
To my great friends from the PierToPier group its been great I'll see you all when I get back! PierToPier will live on, as it has been. The WiFi signal "piertopier.net" has been broadcasting around the harbours and anchorages of the South Pacific. Sharing navigational data and photos to the Blue Water Rally. PierToPier has reached Tahiti, and Fiji and Vanuatu!